Why need eCommerce website SEO?
Nowadays ecommerce website SEO is one of the most popular topics in the internet industry. If you have an online store, you need to learn real ecommerce website SEO. ECommerce SEO is very important for a website to drive targeted traffic. We know most companies spend money for PPC campaign (Google AdWords, Bing, and other advertising network). But still, the company needs ecommerce website SEO. Because their budget will end because of high cost per clicks. For example, you may get 100k clicks, but it also cost you $100k to $150k in Google Adwords. And after that, your site never displays in AdWords no more get any clicks as soon campaign spends Max budget. That is why you need eCommerce website SEO long term basis. On course ecommerce website SEO is very expensive, but it is not higher than Google AdWords. Suppose you spend 10k on AdWords receive 6k clicks and cost per click is $1.5 average. In this case, it is too expensive. But if you spend the 10k a year. And monthly work for eCommerce website SEO. Then you get better clicks day by day and the ranking also permanent. So as we understand the fact why we really need ecommerce website SEO.
Basic SEO vs Quality SEO
Do you ever think what is basic and quality SEO? Most eCommerce website companies want to do SEO for their website. You can do basic SEO if you spend time for some online tutorial, or go to YouTube and find some tutorial. All is basic ecommerce website SEO. But You never know there is some secret SEO development which you never find on YouTube or online training.Extor research a lot and understand 90% company never try to understand real SEO. Suppose you make a job post on a freelance website and when a freelancer is bidding their project. Most eCommerce company owners check the feedback and earning etc. But they never understand what type of feedback it is. Is the feedback from a quality researcher's employer? Actually, you see the great feedback to freelancer profile because someone like you provides feedback to the freelancer profile who never have any knowledge about the real SEO development of an eCommerce website. That is one of the reasons even they give them a good rating. Still, they finish the job and finish the job they know what is done. But if you provide a rating to freelancer after that you cannot change the feedback. And later, you already understand about the freelancer work. But no matter your money already paid and the junk work already was done. So you are too late. You wasted your important budget and cannot rank your website. Full waste of money!
What is real ecommerce website SEO?
There are several factors we can consider as real SEO development. You have to know the following factors.
Competitor Research
Every SEO company can tell you they know competitor researching! Well, ask them. They can analysis google or your big competitor strategy? How your competitor makes a million dollars by SEO? What is the difference between you and competitor company? You have similar website everything similar. Services also similar but you are not so successful as competitor success in their business. So the reality is. You can find a lot of free websites where you can see some suggestion, site audit, link checking, traffic checking about your competitor! Example few sites: SEMRush, Spionage or more.
You can find the details on google by searching the free competitor research site. But still, it's not meant you or the hiring company know the competitor research! So the real eCommerce website is part of competitor research. Not just generate a report but also need to analyze and compare with a site need to rank.
Keyword Research
The most company doing SEO based on idea keyword. How many companies really know the profitable keyword? So an eCommerce website owner needs to know the keyword research. Your hiring company can rank many keywords. But that keyword never receives clicks like the screenshot.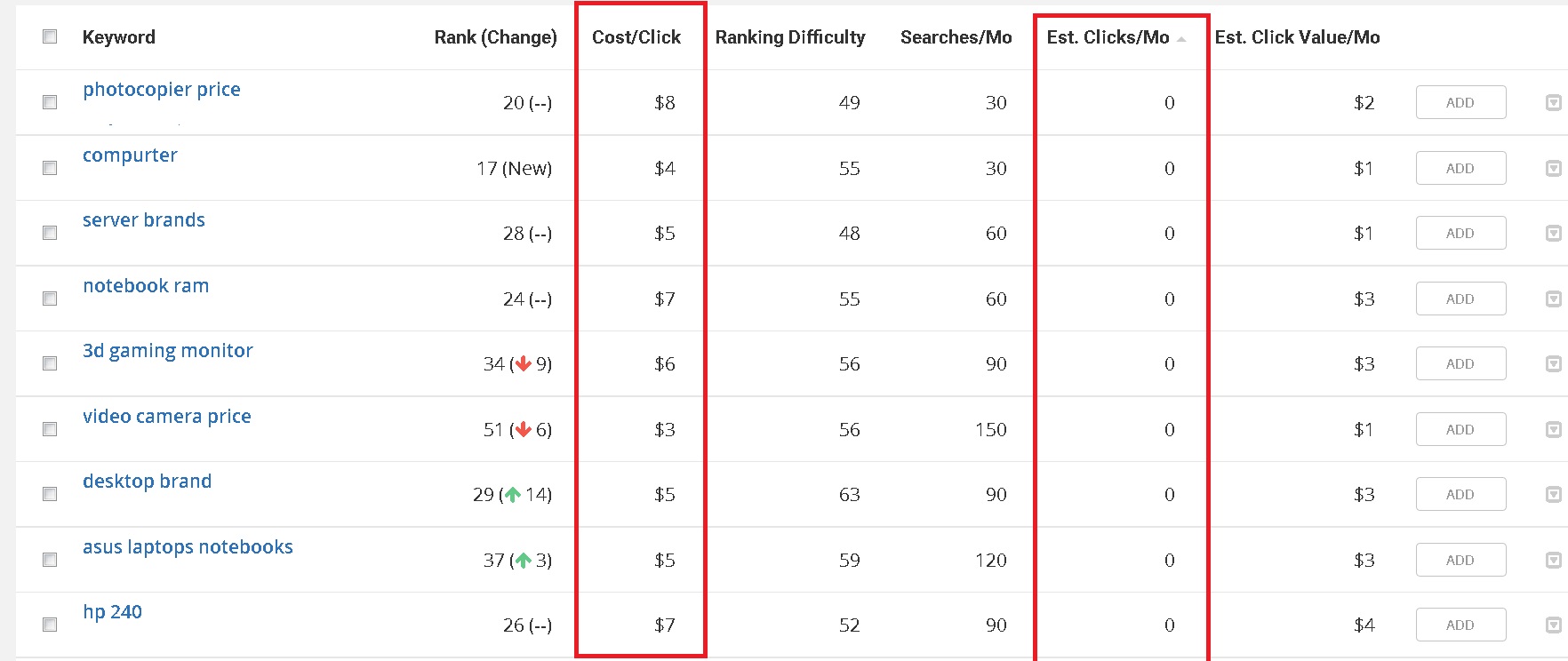 Why? Because those are not a profitable keyword or most competitive keyword. If a keyword is profitable, they really get clicks. Not only that that keyword must be from your competitor relevant keyword. Or if you have AdWords running or already spend money. Check all time, spending keyword which receives the most clicks. Then ask your SEO company to rank such keyword. See how it's work! So this way you can know the eCommerce SEO.
Even that you really never know real competitor research. Extor research about that. We see most companies generate a different type of report, but the client never understands the report. The very basic report they understand and never understand the depth.
By doing free backlink, on page optimization, meta title tag, content marketing is not also ecommerce website SEO! So there is some serious factor behind the scene what extra learn every single day and try to explain to their client!
Is your SEO company knowing social media?
They may know social media! But the reality is most are not understood SEO, social media.Social media is part ecommerce website SEO. Only by posting content is not social media SEO! Is your SEO company really knowing social signal? Ask them how a billionaire company or your competitor make a billion dollars by social media strategy. How they have several thousand or million twitter followers. It's not purchased, followers!
Do you know who is your actual competitor? Any website main competitor Amazon, eBay! Why, because what you are selling may available on Amazon or eBay! So a lot of challenges behind your site.
Why Real ecommerce website SEO factors need to understand?
Extor observes and hired many companies to know their services. Extor sees the most SEO company never know the actual fact of SEO. They believe SEO is just making free links and do SEO. Even paid links that also not SEO! Why? Don't you hear what Google engineer (Matt Cutt said? SEO becomes too hard day by day to filter the time waster. Word of mouth person who believes they are SEO specialist but actually not. It's just a fake speech from them. Here is the several idea eCommerce website company owner needs to follow.
Is your SEO specialist or hiring company knowing how to check backlink?
What type of backlink are they checking?
Do you know google page rank checking is dead?
If someone tells you they know majestic, SEO Moz etc tool. Does it not mean they know real SEO. It's just a fake promise. If you go to the site, you also know the site or follow the tutorial you get the idea! Still, does not mean you know everything!
So what is the actual thing you need to know?
You may see your website ranking a keyword. Does it mean you see profitable keyword ranking by SEO company?
Do you see you receive any clicks or visitor to your site based on the keyword?
Keep in mind there is a way to drive fake traffic and it can verify by google analytics.those are useless traffic. You may happy to see such big traffic! Also, the same time question will be in your mind why no response or sales? So no way to track it. But there is a way you can track it via Google webmaster.
So there are many questions we learn to provide a company real ecommerce website SEO services.
Of course, it is one kind of challenge. That is why the small eCommerce website company failed to improve their website visibility.
Why you can not rely on word of mouth?
The more reason we found most companies or even most people give you fake information. They will tell you they are a company or they are individual, but after giving the job you will see they are not an individual. So they are not serious as an individual doing hard work for eCommerce website SEO developers. However, 85% freelancer never learns or research, especially to rank for a client website. 80% freelancer work for money only. Not to make a solution. So to make report mean to you they are SEO specialist!
So based on all the above statements We make some package for you. Select our package or custom package as you need.