Extor review several posts regarding Steemit. We see Steemit provide serious support to the post. But Steemit can not follow what type of basic thing actually showing to Steemit. and showing very basic thing for Steemit. well We can say Steem it really know what they are doing otherwise make such traffic is impossible. however, I don't want do discuss very basic thing what Steemit surely knows. also what type of post sharing regarding steemit. if it continues several years steemit won't get seo success. to get success steemit must concern regarding link audit.
Please check the screenshot so you will get some idea how bad situation steemit link audit.
We see trust flow is only 26 . and citation flow is 52 . it is ofcourse too much which make serious trouble for steemit. if competitor trust flow really good. then steemit feel a great challenge.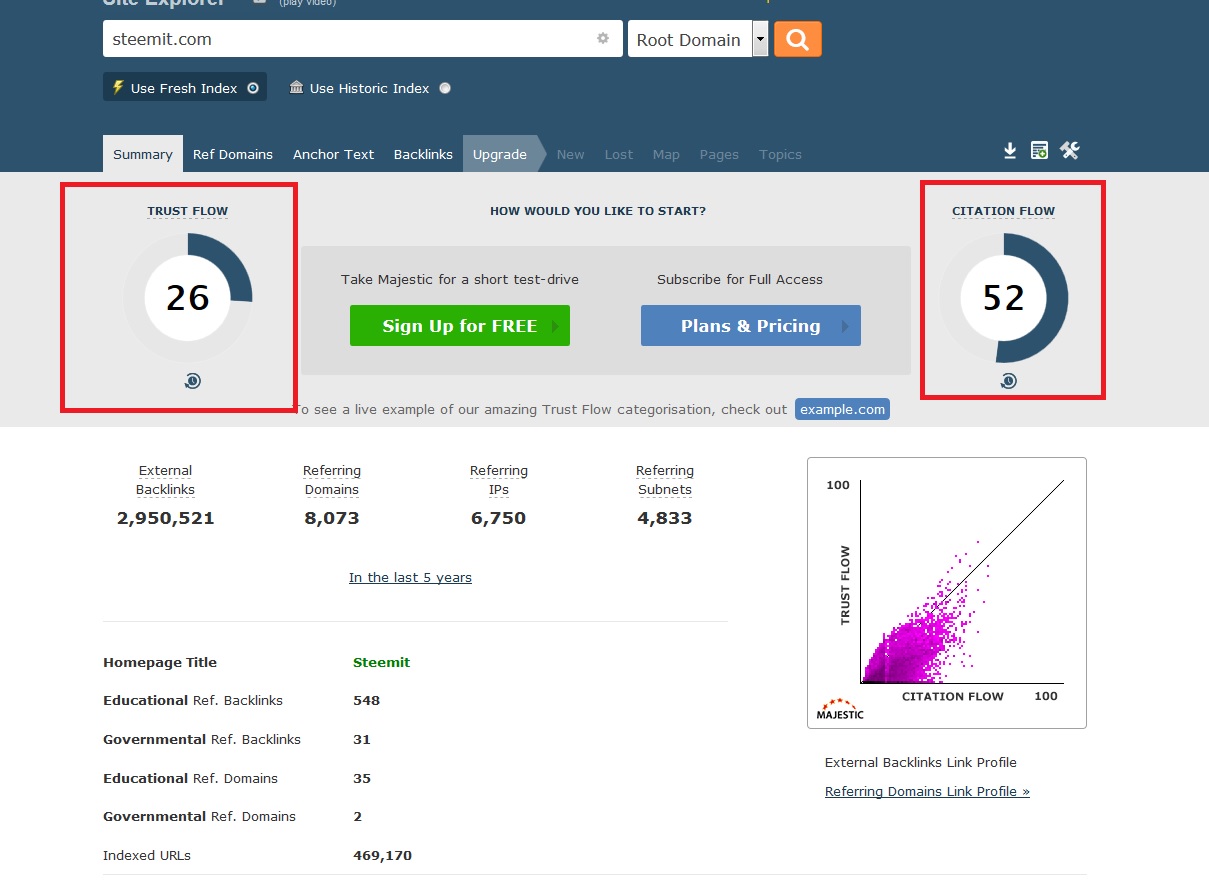 We are not a general SEO specialist. We worked for multi millionaire company SEO Development. So what We see most people never seen. In our research, We found Steemit may not care about link building which is Google most important element to get real traffic from Google. Steemit can rank any quality keyword if it has great link audit system. By showing semrush, or spyfu whatever it is not possible to show steemit growth by any mean. only option need serious link audit. So We can help steemit to do link audit. We know the way. We spend so much time for learning link audit. most people will say they know link audit. but actual link audit is something different. If we really get the support We like to review steemit bad links.
So based on Our review what We see steemit trust flow is not good enough. also citation flow is too high. which is challenging for steemit to drop google ranking.as soon as possible steemit must start caring whole links . no matter how million links are spamming steemit. We can handle that. because We already have an ability to analysis facebook wikipedia and Google links.
We will never show such simple on page, off page thing to steemit. They of course know the simple thing. But link audit which is very very important now.

here is sample bad links in steemit link building . But we can not see the linking. steemit must need majestic seo subscription to see such links.
What we need to do?
We must need to do link audit. each and every link need to audit. we must need majestic seo , seo moz and other metrics as need. Based on multiple analysis. we can figure out the high quality bad links and disavow the domain or link by google webmaster tools.
if you have a cryptocurrency or currency related related site. based on the above statement Extor can help your site to safe from any penalty. try to overcome your business competitor
62,516 total views, 19 views today