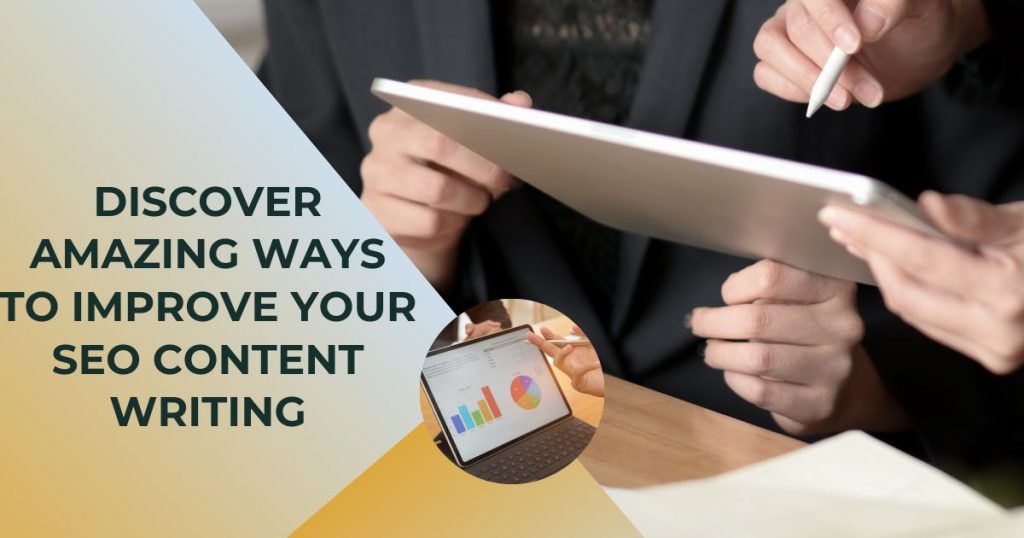 In this digital era, content is the key to every successful digital marketing strategy. 
You would miss out on a big part of your SEO strategies if you do not have well-written content.
Your content represents your brand and brings in new customers.
By providing your target readers with valuable and trustworthy information, you can show Google's algorithm that your website is worth visiting and increase conversions.
How amazing it is!
Writing top-quality content is not an easy task. Many newbie writers struggle to write SEO-friendly content.
Are you one of those content writers who want to improve your SEO writing skills?
If you respond with yes, you have come to the right place.
In this guide, we will walk you through some proven ways to fine-tune your SEO writing skills.
Here you go!
1. Keep your readers in mind
Google's algorithm will like you more if your writing is more detailed. Not only that, but so will your readers.
And it all comes back to the people who read your work. Your customers run your business, and you should focus on them.
So, when you write SEO content, try to see things from your readers' point of view. Here are a few things to remember:
Who are you writing for?
What search terms do they use?
What do they need to know?
Why do they want to know that?
2. Start with keywords
If you want your content to be easily found by readers, you should first focus on keywords.
Before diving into the writing phase, you should always do keyword research.
In order to accomplish this task, you can use a keyword research tool.
You can look at the keywords used by your competitors.
Only take keywords; do not look at what your competitors are actually writing.
3. Conduct research & take notes
After doing keyword research, you should jump right into the research phase and take notes of the important information.
Do comprehensive research on Google and look at what your competitors are covering. Write down all the crucial points on a notepad online.
The digital notepad tool allows you to take notes without spending a single cent.
You can visit the notepad tool and paste the key information into its input section.
It will automatically save your written information.
The best notepad tool is packed with the "Google Search" feature. So you can use this feature to save time.
4. Break up big projects into smaller tasks
Write all the headlines first, making sure to use the keywords you want to rank for. Then fill in each section.
This works the same way whether you are writing 2,000-word content or a 600-word copy for a client about how a product works.
You should keep track of the word count.
These days, you do not need to count words manually. Instead, an online word counter lets you count the total number of characters, words, sentences, and pages of your text.
In this way, you can stay inside the specific word count.
An online word-counting tool is free to use. Just copy-paste the text into its input section. It will show you the actual word count in real-time.
So stick around the particular word count.
5. Focus on writing sentence by sentence
Open MS Word or Google Docs and start writing the first draft.
Do not write paragraphs until you have done your first round of editing.
One-line sentences keep your mind fresh.
They will help you keep track of your ideas as you start editing.
Think short for every sentence, like a tweet with 140 characters, and enjoy writing that is short and to the point.
6. Write engaging sentences for SEO
A sentence should start and end with the most important words.
The best sentences should be at the beginning and end of each paragraph.
This step helps you keep more detailed parts in the middle and the most important ones at the beginning.
Writing SEO-friendly content can be a difficult task, especially when dealing with complex sentences.
In such cases, using an online sentence rephraser can be a great help. It can help you to paraphrase the sentences in an easy-to-understand way and make sure that the content is optimized for search engine rankings.
7. Place keywords in the best-fit places
Use your keyword in the following places to send strong signals to search engines about what the content is about:
Meta Title
Meta Description
Image alt text
Heading and subheadings
8. Check for duplicate content
Having duplicate content on your website can get you in trouble, so you should check your content for plagiarism before you post it.
You can use an online plagiarism-checking tool to do this, so you can take control and make sure your content is as good as it can be.
If your content is duplicated, you should paraphrase it.
However, if you lack proper paraphrasing skills, you can use an online paraphrasing tool to perform this task.
It will improve your content's sentence structure and boost its readability.
An online paraphraser is based on Artificial Intelligence (AI); therefore, it creates different versions of the text.
So you can fine-tune your content writing skills by using a rephrasing tool.
9. Include all SEO details
If you have written your content, you should be proud of it.
You are one step closer to getting more people to see your website.
If you want to make sure that your content fits with SEO strategies, you will need to go the extra mile and fix the back end where your content is posted.
Make sure that your content includes all these SEO parameters:
Meta Title
Meta description
H1, H2, and H3
Final Words
This entire article can be boiled down into these nine steps:
Keep your readers in mind
Start with keywords
Conduct research & take notes
Break up big projects into smaller tasks
Focus on writing sentence by sentence
Write engaging sentences for SEO
Place keywords in the best-fit places
Check for duplicate content
Include all SEO details
Pay attention to these nine ways and improve your SEO content writing.
14,121 total views, 39 views today